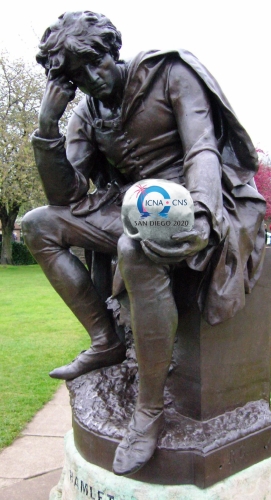 A message from CNS Executive Director, Roger Larson
When I wrote to you in May, expressing hope that there might still be some way a critical mass of child neurologists could gather for a seaside meeting in California staged in tandem with a virtual meeting online, I did so noting that if this year's meeting in San Diego was "just" another CNS Annual Meeting, we might already have made the same decision so many other associations had to go fully virtual.
"But it's not just another CNS Annual Meeting," I pointed out. "We have waited so long to co-host a joint 'congress' with our global partners, the International Child Neurology Association (ICNA)--a full generation, going back to San Francisco in 1994--that giving up hope too soon, before there is simply no more reason to hope, just seems wrong. So, let's wait awhile longer. Not much longer, but a while."
Well, we waited. And brooded ("To be or not to be?"). Sadly, as anyone (or almost anyone) can plainly see, conditions in the US in general, and in southern California in particular, are getting worse, not better. Government and institutional travel bans, budget cuts, flight restrictions, and myriad well-founded safety and health concerns have settled the issue once and for all.
There is no reason to wait or hope any longer. The joint meeting in San Diego, alas, is "not to be." Not even as part of a hybrid meeting.
So ends one play. But so begins another: "All's Well That Ends Well"!
Planning and preparations are now underway for staging the first-ever VIRTUAL Joint ICNA-CNS meeting. It will be different, vastly different. But it will be great. As a platform for sharing knowledge, the virtual platform's vast potential is well known. And while it may not lend itself as easily or naturally to the second and third elements of the ICNC's triadic theme--"Sharing Knowledge, Sowing Friendships, Spreading Hope"--I am confident that we will design a virtual platform so dynamic, engaging and robust that it may very well seed career- and life-changing relationships as well or better than five days in southern California might have. And I feel certain that those relationships seeded among child neurologists worldwide, as well as those with corporate and non-profit exhibitors and sponsors actively participating in and financially supporting this virtual meeting, will continue to spread hope in our fast-changing field beyond our wildest dreams.
So, stay tuned for more information in the coming weeks and months.......
Regards, Roger
Roger Larson, CAE Executive Director rblarson@childneurologysociety.org