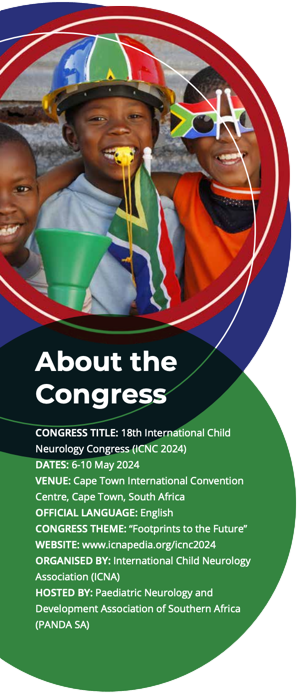 We cordially invite your esteemed organization to become a valued sponsor of the 18th International Child Neurology Congress, scheduled to take place in the breathtaking city of Cape Town from May 6th to 10th, 2024. This prominent event brings together distinguished neurologists, pediatricians, researchers, and healthcare professionals from around the globe to explore the latest advancements in pediatric neurology.
By joining hands with us as a sponsor, you will have a unique opportunity to showcase your brand, products, and services to a global audience of influential medical professionals, while contributing to the advancement of child neurology.
Why Sponsor?
Global Reach
The 18th International Child Neurology Congress attracts a diverse and international audience, providing you with unparalleled exposure on a global scale. Your sponsorship will enable you to position your brand as a leader in the field of pediatric neurology and reach key decision-makers.
Targeted engagement
This congress focuses exclusively on child neurology, ensuring that your sponsorship investment will reach a highly relevant and engaged target audience. You will have the opportunity to connect with leading experts, researchers, and clinicians, establishing valuable partnerships and collaborations.
Networking Opportunities
The congress offers a variety of networking events and sessions, providing a platform for you to engage with influential professionals in the field. Forge connections, exchange ideas, and explore potential collaborations that can drive future growth and innovation.
Thought Leadership
As a sponsor, you will have the opportunity to contribute to scientific sessions, present your latest research findings, and participate in panel discussions. By sharing your expertise and insights, you can position your organization as a thought leader in the field of child neurology.
Brand Visibility
Your sponsorship will grant you prominent brand recognition throughout the congress, including logo placement, signage, and acknowledgment across various congress materials. Maximize your brand exposure and create lasting impressions among a distinguished audience.
Product & Services showcase
Take advantage of the dedicated exhibition area to showcase your latest products, technologies, and services to a captivated audience. Demonstrate your commitment to advancing pediatric neurology and generate leads among engaged delegates.
Access to cutting edge research
The congress will feature a range of scientific presentations, posters, and abstracts, unveiling the latest breakthroughs and advancements in child neurology. As a sponsor, gain exclusive insights into ongoing research, positioning your organization at the forefront of innovation.
Continuing Education
The congress offers a range of educational sessions, workshops, and symposia, providing attendees with the latest advancements and knowledge in the field of child neurology. As a sponsor, you can contribute to these educational activities, positioning your organization as a valuable resource for professional development.
Market insights
By engaging with congress participants, you can gain valuable market insights, understand emerging trends, and identify unmet needs in child neurology. This knowledge can inform your future product development, marketing strategies, and overall business decisions.
Social Responsibility
By sponsoring the 18th International Child Neurology Congress, you demonstrate your commitment to improving the health and well-being of children with neurological disorders and neurodisability worldwide. Align your organization's corporate social responsibility goals with the advancement of pediatric neurological care.