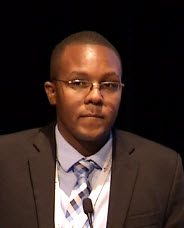 Edward Kija
Consultant Paediatric Neurologist from the Department of Paediatrics and Child Health of the Muhimbili University of Health and Allied Sciences (MUHAS) and Muhimbili National Hospital, in Dar Es Salaam, Tanzania
Sheila Wallace Award Lecture
Dr Edward Kija will deliver the Sheila Wallace Award at the ICNC2022 on "The developmental and epileptic encephalopathies in low resource settings: Challenges in diagnosis and management".
Edward Kija received undergraduate and post-graduate training in Dar-Es-Salaam and subsequently sub-specialty training in Paediatric Neurology at the Red Cross War Memorial Children's Hospital, University of Cape Town, South Africa where he graduated in 2015.
A recipient of the 2016 CNS Bernard D'Souza award, Edward pioneered the establishment of a Paediatric Neurology Unit with dedicated inpatient and outpatient service, currently attending 80-100 patients in outpatient clinics and 10-20 inpatients per week. Nationally, he has been involved in developing the National Paediatric Standard Treatment Guidelines and National Essential Medicine list where the management of Epilepsy and other neurological conditions were incorporated which facilitated the availability of medications including anticonvulsants across the country. Edward is the country Lead for the Paediatric Epilepsy Training (PET), with over 150 health workers trained so far.
Internationally Edward is member of the East African Academy of Childhood Disability, an Executive Board Member of International Child Neurology Association, Executive Board Member of the International League Against Epilepsy (ILAE) African Commission, member of the ILAE Paediatric Commission and a member for the Task Forces on Access to Medicines and Transition to Adolescent.
He has been involved in several multi country research projects, currently leading a WHO study assessing neurodevelopmental outcome of children who received immediate Kangaroo Mother care and Genetics Childhood Onset Epilepsies in Tanzania.