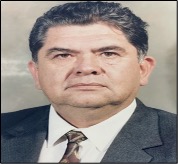 It is with great sadness we share that Alcy Torres Catefort Sr, MD, father of our esteemed colleague Dr. R. Alcy Torres, a global health leader himself, died January 9, 2022, at home. He was 84.
Born in Ecuador, Dr. Torres received his MD from Universidad Central del Ecuador. He completed his residency in Pediatrics at Children's Hospital of Paris (Necker-Enfants Malades) in 1968 and obtained additional training on Neonatology at the Mexican Institute of Social Security (IMSS) in Mexico. Dr. Torres's career began with his service long before becoming a pediatrician. He was an intern at Hospital Baca-Ortiz (Children's Hospital of Quito), where he acquired excellent experience for several years which became the base of his pediatric knowledge. After becoming a pediatrician, he joined the Carlos Andrade Marin Hospital (HCAM) in Quito, Ecuador, in 1972, where he subsequently became the founder and Director of the Pediatric Emergency Department, Pediatric Critical Care, and General Pediatrics.
Although Dr. Torres continued as Director of Pediatrics, he dedicated himself to Pediatric Neurology, a specialty that he practiced until his retirement in 2010 at the age of 72. During his tenure, the Pediatric Service became a Department with the highest complexity level of care for pediatric referrals nationwide. When the social security law extended health coverage to workers' children and native Ecuadorians, Dr. Torres saw the need to expand the Pediatric Ward, and he developed a Pediatric Specialties Ward. He also developed a hospitality program that offered hospitality and food to families coming from long distances and requiring lengthy hospitalizations due to malaria, complicated meningitis, trauma, and cancer.
From his early years in medical school, Dr. Torres became involved in teaching, as Instructor of Anatomy, and after his graduation, he joined the Faculty of the Universidad Central del Ecuador, School of Medicine, in the area of Pediatrics. He was asked to develop the Pediatric Neurology program, the first in the country and shortly after, he wrote the Pediatric Neurology book, known as the "Red Book." He quickly moved up through the academic ladder to become Professor of Pediatrics and Chairman of the Department of Pediatrics.
Dr. Torres's scientific contributions and research interests as a pediatrician were to develop an alternative method for infant rehydration, gut repair, and early feeding with the "Soup de Carrot." In the field of Pediatric Neurology, he focused on the study of neonatal encephalopathy, with several publications like the study of 1100 newborn babies with hypoxic ischemic encephalopathy, later included in his textbook of Pediatric Neurology Emergencies. In addition, Dr. Torres authored many publications during his scientific prolific career and several leading editions of his books on Pediatric Neurology.
Dr. Torres was greatly appreciated by his students and staff in general. His teaching style reached their hearts and was characterized by motivating them to improve. Besides scientific teaching, he shared his experiences of living in France and the ways to overcome the obstacles that life presents us all. Throughout his career, Dr. Torres received countless honors and accolades for his accomplishments and innovative program development. He initiated and oversaw programs to improve health outcomes for children with dehydration and hypoxic-ischemic injury and helped establish clinics providing specialized services to Ecuadorian minorities. Dr. Torres was a lifelong champion of Pediatric Emergency and Pediatric Neurology. In addition, he volunteered for more than 30 years caring for sick orphan children at Hogar del Nino, San Vicente de Paul, in the south of Quito, an area of extreme poverty.
Dr. Torres was a seminal force in academic medicine at the local, national, and international levels. He was President of the Ecuadorian Pediatric Society, President of the Academia Iberoamericana de Neurologia Pediatric Congress, member of the French Pediatric Society, and member of the Asociacion Latinoamericana de Pediatria, Executive Board in Neurology. He met AAP President Dr. Errol Alden in Rio de Janeiro during an IPA meeting to discuss how to improve medical education in our hemisphere, which led to formal education on NALS and later on PALS in many countries in Latin America. Dr. Torres's guidance and passionate support for his students, trainees, and junior faculty helped mold countless generations of pediatricians in Ecuador. In each domain of service, he insisted on excellence and purpose, always demanding attention to the health and dreams of the neediest among us.
Dr. Torres had many and varied interests beyond medicine. He had a deep knowledge and passion for reading and music. He enjoyed traveling to the mountains and spending time with friends and family. He and his beloved wife Gladys Guerrero had three children, Alcy, Gladys, and Edmundo, all physicians with specialties in Pediatric Neurology, Ophthalmology, and Internal Medicine, respectively.
Dr. Torres will be remembered for his love for his family and friends, for his warmth and good humor, for his unusual combination of humility and dignity, for his unfailing curiosity in all things, and always, for his sense of style. The services were private. A celebration of Dr. Torres's life will be held at a later date. Our sincere condolences to Dr. Torres's family, friends, and colleagues and, particularly, to Alcy, his older son, who follows in his father's steps in Boston and is an esteemed member of the ICNA.
Originally published in the AAP Section of Global Health Newsletter