We are deeply saddened to report that Professor Masaya Segawa, MD, PhD, the director of Segawa Neurological Clinic for Children, Tokyo, Japan, took his last breath at 18:15 on December 14, 2014, at age of 78 year-old from a disease to which he fought till the end courageously. His extreme courage is based on his belief as a physician, sincere thought for life and his noble heritage.
He was an exceptionally hard worker, and a man with the kindness, warm heart,a humor and a beautiful smile. His contribution in the medical field and warm friendship to all of us will be remembered for a long time.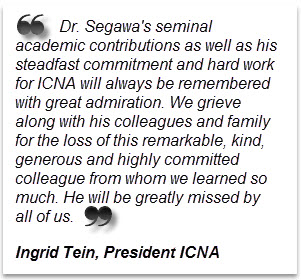 Dr Segawa's discovery of the condition "Hereditary progressive dystonia with marked diurnal fluctuation" in 19761, stands among the most important modern contributions to child neurology. Dr. Segawa,Dr. Yoshiko Nomura, and their colleagues have made many more important contributions to child neurology including sleep disorders, autism and movement disorders.
Dr Masayo Segawa (1882-1962) who made the important observation2 that neurological symptoms in breast-fed infants disappeared with mixed feeding, probably one of the earliest reports on "infantile beriberi" was the grandfather of Dr Masaya Segawa. Dr. Segawa's great-grandfather, Dr. Masatoshi Segawa (1856-1920), was the Dean of Miyagi Medical School, a Professor at Chiba Medical School, and the founder of Koutou Hospital for children in 1899 and of Segawa Children's Hospital at Ochanomizu in 1905. Dr. Masaya Segawa's father, Dr. Isao Segawa (1905- 1984) was also a distinguished paediatrician3.
In 2010, the ICNA conferred Honorary Membership on Dr Masaya Segawa and he has been a member of the ICNA Executive Board since 2004
Yoshiko Nomura, MD, PhD
Assistant Director
Segawa Neurological Clinic for Children
2-8 Surugadai Kanda Chiyodaku
Tokyo 101-0062 Japan
TEL 81-3-3294-0371
FAX 81-3-3294-0290
E-mail This email address is being protected from spambots. You need JavaScript enabled to view it. E-mail This email address is being protected from spambots. You need JavaScript enabled to view it.
References:
1. Segawa M, Hosaka A, Miyagawa F, Nomura Y, Imai H. Hereditary progressive dystonia with marked diurnal fluctuations. Adv Neurol 1976;14:215–33
2. Segawa Y. Nervous symptoms in a breast-fed infant which disappeared with mixed feeding. Zika-Zasshi 1916;189
3. Ouvrier RA. Japanese contributions to child neurology - an international perspective. Brain Dev. 2012 Jan;34(1):2-7