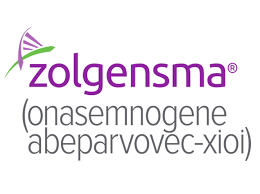 According to research presented at the 2021 Muscular Dystrophy Association (MDA) Virtual Clinical and Scientific Conference, on the SPR1NT trial Children with SMA treated with onasemnogene abeparvovec-xioi (Zolgensma®; Novartis) prior to the onset of symptoms, achieved milestones like sitting, standing and walking at an appropriate age, grew as expected without nutritional assistance, and remained free of all forms of mechanical ventilatory support. These findings further underscore the urgent need for newborn screening.
As a gene therapy, ZOLGENSMA® (onasemnogene abeparvovec-xioi) is designed to target the genetic root cause of spinal muscular atrophy (SMA) by replacing the function of the missing or nonworking SMN1 gene with a new, working copy of a human SMN gene. ZOLGENSMA does not change or become a part of the child's DNA. You can watch a short video of how it works here.
The phase 3 SPR1NT trial (ClinicalTrials.gov: NCT03505099) is an ongoing open-label, single-arm study evaluating the efficacy and safety of onasemnogene abeparvovec in presymptomatic patients (6 weeks of age and younger) with a genetic diagnosis of SMA and 2 or 3 copies of survival motor neuron 2 gene (SMN2). As of June 11, 2020, 79% of patients (n=11/14) with a median age of 15.6 months in the 2-copy cohort, met the primary endpoint of sitting without support for at least 30 seconds; 10 patients achieved this mark within the World Health Organization (WHO) window of normal development. Moreover, 36% of patients (n=5/14) were able to stand independently and 29% (n=4/14) could walk independently. Among patients who had not achieved these milestones, the researchers reported that the majority had not yet passed the normal development window.
Additionally, all patients achieved Children's Hospital of Philadelphia Infant Test of Neuromuscular Disorders (CHOP INTEND) scores of at least 50, with 93% of patients (n=13/14) achieving a CHOP INTEND score of at least 58. Steady gains in mean raw score of Bayley-III fine and gross motor scales were observed in all patients.
Among the 3-copy cohort, 53% of patients (n=8/15) with a median age of 15.2 months met the primary endpoint of standing alone for at least 3 seconds, while 40% (n=6/15) were able to walk independently. Patients who had not yet achieved these milestones were reported to still be within the WHO window of normal development. Steady gains in mean raw score of Bayley-III fine and gross motor scales were observed in all of these patients.
Zolgensma is currently approved for the treatment of pediatric patients less than 2 years of age with SMA with bi-allelic mutations in the SMN1 gene. The recombinant adeno-associated virus vector-based gene therapy is designed to deliver a copy of the gene encoding the human SMN protein.
Reference
New Zolgensma data demonstrate age-appropriate development when used early, real-world benefit in older children and durability 5+ years post-treatment. [press release]. Basel, Switzerland: Novartis; March 15, 2021.